'Tis the season to be jolly and with this year being difficult for most of us, we all deserve to enjoy the festive season as much as we can. Whilst hopping on a plane and traveling to Lapland might be tempting (yet not recommended), the best thing we can do is to find the most Christmassy areas within the UK!
With that in mind, the experts at OnBuy.com sought to find out which are the cities and areas in the UK that can be considered Winter Wonderlands! Four factors were taken into consideration: the number of streets with a Christmas name, the average spend on Christmas lights and decorations, average annual days of frost and the search volumes for Christmas related terms for each city/region.

These are the most Christmas obsessed REGIONS in the UK!
The study crowns the East Midlands as the most Christmassy region in the UK scoring a total of 297 points, followed by the North West with 290 points and Scotland with 282 points!
When it comes to festive streets, the North West has plenty! From Snow Hill in Preston, to Gingerbread Lane in Nantwich, there are 29 streets with a festive name in this region, getting the maximum score for this factor.
Scotland received maximum score (100 points) for the average spend on Christmas lights and decorations and for average annual days of frost. In fact, a whopping £665.75 per 1,000 people is spent on decorations in Scotland – that's approximately 355 times more than what people in Northern Ireland spend on decorations (£146 spent in Northern Ireland). If you enjoy frosty air, Scotland is the best place for you with 10.7 days of frost on average annually.
People in East Midlands got the maximum score for festive monthly searches (32 Christmas-related searches per 1,000 population on average every month!).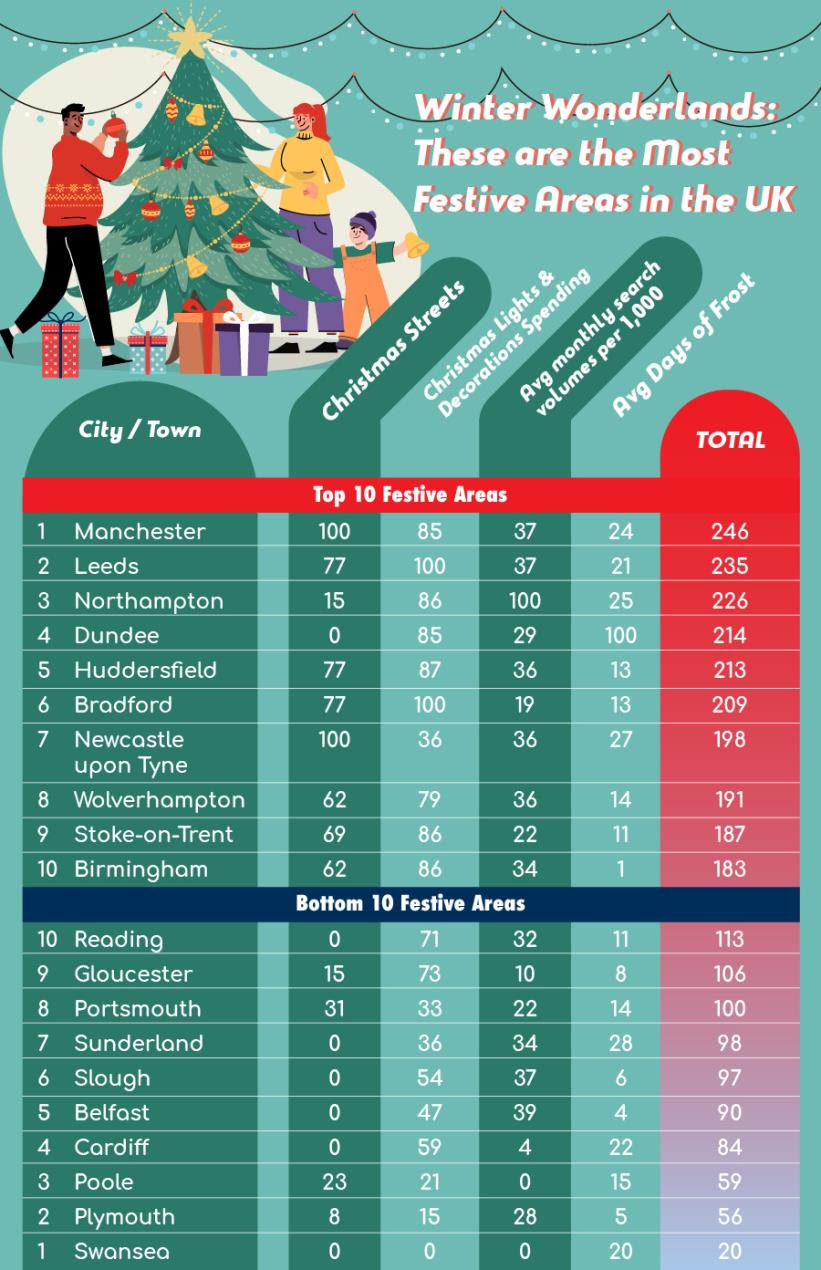 These CITIES are Britain's Winter Wonderlands!
If you would like to enjoy a winter wonderland experience, the best cities in the UK for that are: Manchester (scoring 246 points), Leeds (235 points) and Northampton (226 points).
When it comes to Christmas streets, Manchester gets maximum points. To get these figures, data for the county in which each city is located was used. With that in mind, there are 13 festive streets in the county of Greater Manchester.
Leeds gets the maximum points for the money spent on Christmas lights and decorations, with £346 per 1,000 people spent on average.
People in Northampton enjoy searching for Christmas-related terms online. In fact, the city sees 63 festive Google searches per 1,000 inhabitants on average every month.
Which are the least festive cities in the UK?
At the other end of the scale, the least festive cities in the UK are Swansea (20 points), Plymouth (56 points) and Poole (59 points).
We hope you have a Merry Christmas and a Happy New Year!!!
Please follow and like us: