London, June 23, UK charity, How Many Elephants, led the launch today of World Female Ranger Day, the first-ever awareness day that celebrates female wildlife rangers globally, with a spotlight on Africa for 2021.
This ground-breaking initiative wants to bring visibility to those female rangers out there in the field, seizing snares, clearing out poachers' camps, and patrolling vast wilderness areas. With Africa's wildlife being decimated by poaching and habitat loss, the presence of wildlife rangers in wilderness areas is paramount. It was often believed that this type of job was too dangerous for a woman but this has changed and these women have become a great source of inspiration, especially to other young girls and women.
Holly Budge, one of the founders of World Female Ranger Day and Chair of How Many Elephants highlighted that this campaign has been created by women, about women, for women and with the support of men who respect and promote equality for women.
"Having spent time on the front line with multiple all-female anti-poaching units in Africa, it's evident why the female ranger movement is picking up such momentum. These incredible women are proving to be highly successful at easing local tension and strengthen relationships within their communities. Through the World Female Ranger Day initiative, How Many Elephants aims to collate gender-specific data about female anti-poaching rangers. This will enable us to identify their needs, find tangible solutions and help build effective policies to contribute towards positive outcomes for female rangers and conservation as a whole", said Budge.
How Many Elephants is an innovative, design-led charity educating a global audience about the devastating impacts of the African elephant ivory trade and raising vital funds for front-line female rangers. Co-founded also by Margot Dempsey, Head of Communications, the charity hopes that the lunch of World Female Ranger Day is the start of a long standing campaign to support female-led conservation efforts across the globe.
The platform online allows people to get involved in this initiative with a donation, a recorded message of support for these women or with the challenge to step into the boots of a wildlife ranger walking as many kilometres as they do – they cover around 20km per day.
Uganda celebrates the courage of these women as well and their enormous contribution to the preservation of the wildlife. USAID / Uganda Tourism for Biodiversity Program implemented by African Wildlife Foundation in partnership with Uganda Wildlife Authority accordingly launched a 'Women in Conservation Leadership Program' to celebrate and recognize outstanding women involved in conservation and wildlife fields in Uganda.
The recognized ladies included Dr. Margaret Driciru, a veterinarian and senior Monitoring and Research warden for Queen Elizabeth National Park, Ms Norah Kazigati Mbubi a community conservation ranger in Kibale National Park, Ms Maureen Arabuuza, the head ranger for Lake Mburo National Park who has worked in conservation for 13 years, Ms Olivia Biira who boasts of 14 years of experience in conservation and is currently the Community conservation warden for Bwindi Impenetrable National Park and Ms Janet Okwel a senior guide in Murchison Falls National Park who has worked in conservation for the last 17 years.
Other names that stand out in the Ugandan crowd of female rangers are Gloria Asasira, Goreth Niyibizi, Ruth Imalingat, Namusoke Lilian, Namawejje Sarah, Kenzarwa Allen, Arinaitwe Leticia, Annet Kabihogo, Biira petronila aka. Petra, Tukwatsibwe Edida, Amanyire Scola, Kanyere Harriet, Agaba Harriet, Nyamihanda Judith and Muthahinga Jane.
Many of these inspirational women have overcome adversity, poverty and marginalisation. Becoming a ranger has empowered them and turned them into breadwinners and property owners, and has given them access to higher education and much-needed healthcare. Their often challenging work on the front line, defending wildlife and protecting wild spaces, is making a difference.
"Gloria chose to be a ranger because of her love of nature and conservation. She knew from a young age that she wanted to be as close to nature as possible and wanted to work in a field that would truly make a difference to the protection of wildlife and natural resources; becoming a ranger was a natural choice. At the time, however, female rangers were not being recruited and it was only once a new government came into leadership in the region that women were encouraged to pursue any career they wanted, regardless of whether these jobs were previously considered to be for men only", story published on the website of The Matriarchs, a community that supports women working to address environmental and humanitarian issues.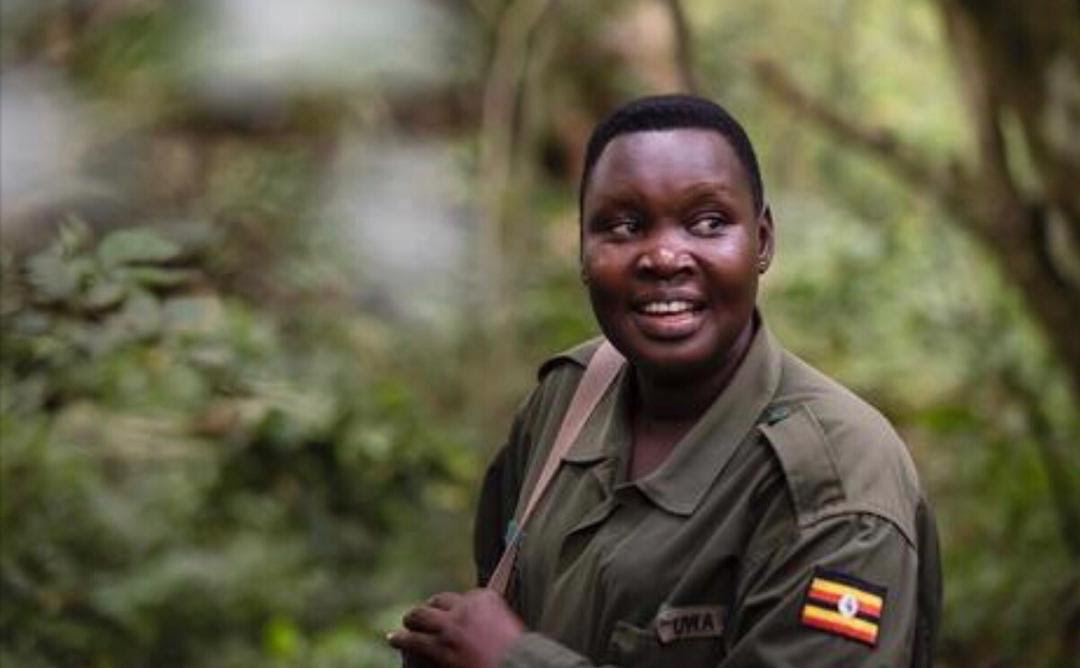 "No job is for a man and no job is for a woman, a woman can do anything", said Ruth Imalingat, who began her career as a Research Assistant and after five years she became the first and only female Field Guide among many man.
More information available about Gloria and Ruth on:
https://thematriarchs.org/meet-gloria-asasira/
https://thematriarchs.org/meet-ruth-imalingat/
Please follow and like us: